CURRENTLY READING
FAVORITE #HASHTAGS
#DanteTongueLove
#KickedintheTaco
#Throatchop
JULY
AUGUST
SEPTEMBER
NOVEMBER
DECEMBER
I'M A STAR FOR KLB!!
Saturday, October 2, 2010
Welcome to the final posting for Book Pimps - Who They Are and Why We Love Them. It's certainly been a full week. I've had the pleasure of introducing you to my personal Book Pimps, Marquetta from Love To Read for Fun, Bells from Hanging With Bells, KC from Smokin' Hot Books and Penny from Penny Pimpin'. I hope you've enjoyed all that they had to say and share with fellow bloggers and readers alike. You can never have too many Book Pimps - you're wallet might complain.... but you'll never run out of anything to read :)
So now, I'm going to have my Pimps introduce my last and final Book Pimp:
She feeds my book addiction and hand to god I spend at least an extra $20-$50 a month on books because of her reviews.~ KC from Smokin' Hot Books
My number one, una suprema, book pimp is Smexybooks! from Bells ~ Hangin With Bells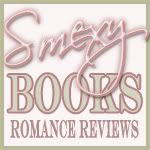 Yes, Ladies and Gentlemen, the Book Pimp of ALL Book Pimps, The One Pimp to Rule them All..... is Mandi from Smexy Books Romance Reviews. I, like most of Mandi's followers, stalk her tweets -- follow her reviews and pretty much just read whatever she says. Why- because she's that good. Between her reviews, contests and interviews
Tell us a little about yourself:
Hi! I'm Mandi and write the blog, Smexy Books. My review partner Tori and I read and review anything in the romance and urban fantasy genres. When I discover a good book, a really, really good book - the kind that gives yous jitters after reading it - I love to force suggest others should read it as well. And although I find myself throwing books at readers often, I have been on the receiving end, and found some amazing books through others pimping skills.
Who are your top 3 Book Pimps and what do they pimp to you? :
1. The Book Smugglers: I still to this day remember reading their review of Revealed by Kate Noble and thinking, wow, that book sounds like the perfect book for me. So when I finally got around to reading it and fell in love with Marcus, my beloved beta hero, I really had to them credit. They not only pimped that one to me, but many others as well. My review can be found here.
2. My friend and neighbor Bridget - So, Bridget does not have a blog, but I have to give her all the credit for pimping out The Gardella Vampire Chronicle series by Colleen Gleason to me. I started the first book (of the five book series) The Rest Falls Away long ago, and couldn't get into it. Fast forward a year or two, and Bridget calls me up and said I must read the aforementioned book - she is in love with it. After a big sigh I said, sure sure. But didn't do it. But she didn't give up - A true sign of a fabulous book pimp!! She force fed me wine until I agreed to read it. So I did - and by the end thought wow, this was a pretty good book. Together we read the remaining four books and we literally cried together when we finished book five. Not only is it an amazing series and one of my favorites, but it was so much fun reading them together. Is it good to have a book pimp as a next door neighbor - yes it is.
3. For my final pimpster extraordinaire - I must talk about the Downside series by Stacia Kane. To get me to read this three book series was a group effort - let me explain. Tori and Sophia read the first in the series, Unholy Ghosts and the pimping started. Then they read Unholy Magic and I was blinded by their pimping. Five star ratings started popping up everywhere and they started YELLING AT ME WITH CAPITAL LETTERS on Twitter to read the first two books. OKAY, OKAY!! I said. So I loaded up my Kindle and went to the beach. Of course they were right - and I read Unholy Magic with my mouth hanging open (wipes drool) and was literally stunned at the journey my emotions went on.
Book three, City of Ghosts finally came out but I had some things pop up in real life (darn real life) and couldn't get to the book when it first came out. Then I became behind on my blog, so City of Ghosts got pushed even further down the pile. It wasn't until I recently announced on Twitter I had yet to read it that the actual full frontal assault started. Bells was hitting me from all sides - Twitter, Goodreads, emails. I was pretty sure Julie would hunt me down from Canada. I was nervous SpazP (aka Pamela) would live up to her name and give me a spaz attack! I was nervous y'all!! A massive pimp mob was forming and they were out to get me. So I read it - and damn it - my pimpers were right of course. City of Ghosts, along with the other two books in the series are my favorite books of 2010. My girls gave me that extra push I needed and I love them for it.
It is the best thing in the world, when you read a book and you know you cannot rest until everyone you know has read it as well. I love to dish it out, but I love to be on the receiving end of it as well. So put on your pimping gear, polish up that book bling, and go make someone read a book.
Now that's the sign of a true Book Pimp. Not only does she serve her customers up with smexy books -- but she has her *own* suppliers. What?? Oh and to prove just how fantabulous Mandi truly is -- Smexy Books just won the Best Romance Book Blogger Award for Book Blogger Appreciation Week 2010! BOOM!! If Mandi says read it? Guess what.....you better get your read on!!
Mandi - in honor of Book Pimp Appreciation Week, I'm pleased to award you with your own official Pimp Cup:
Queen Book Pimp

Labels:
Book Pimps
,
Favorite
,
Favorites
,
Smexy Books
LIKE ME ON FACEBOOK
Subscribe To


Posts


Comments
ARE YOU A MEMBER?
I DID IT!