CURRENTLY READING
FAVORITE #HASHTAGS
#DanteTongueLove
#KickedintheTaco
#Throatchop
JULY
AUGUST
SEPTEMBER
NOVEMBER
DECEMBER
I'M A STAR FOR KLB!!
Sunday, December 26, 2010
After nearly a year of blogging, I'm finally getting the hange of reading challenges and I've decided to sign up for the Kickass Heroine Reading Challenge hosted by Diva's Bookcase.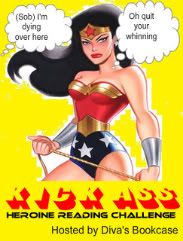 I love books that include Heroine's that kick ass first and ask questions later so this is the perfect challenge for me! Want to participate too? Just click the button above and head on over to the site for more details.
Here's to a Kickass 2011!
Labels:
Kickass Heroine Reading Challenge
LIKE ME ON FACEBOOK
Subscribe To


Posts


Comments
ARE YOU A MEMBER?
I DID IT!